2018 UPDATE: For the past five or more years, we have been taking our rabbits to Eagle Ridge Animal & Bird Hospital in Coquitlam, BC. We like Dr. Ian Hardin very much, and endorse him and his team wholeheartedly.
Here is the earlier post from before we discovered Eagle Ridge:
We noticed Priscilla's right eye was red around the edges and decided to take her to a veterinarian who recently opened up a new practice. We first heard about Dr. Joseph Martinez in a TV news story about a pregnant rabbit who had been shot in a park in Richmond, BC, Canada. He saved her life and she delivered a healthy litter of baby bunnies, but her shattered leg had to be amputated. There is a YouTube video about it down below.
We met Dr. Martinez last fall at Vancouver Rabbit Rescue's annual Rabbit Fest. He generously volunteered to give free health check-ups to the rabbits people brought in.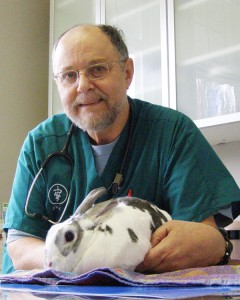 Very recently, we learned he had opened a new veterinary practice in the Steveston area of Richmond, just across the river from Vancouver, BC. He immediately saw there was something wrong with Priscilla's right eye and did some tests to determine there was no scratch on her cornea but rather it was an inflammation. So he gave us a tube of ointment and showed us how to put it into her eyes as gently as possible. That was a few days ago, and now we can tell our big girl is feeling better already.
There are not a lot of rabbit savvy vets in the greater Vancouver area, so we were very happy to know about Dr. Martinez. It is obvious he not only knows a whole lot about rabbits and how to keep them healthy, but also he is a man who truly enjoys rabbits and likes to spend time with them.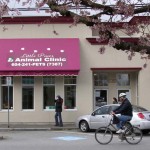 If anyone in the area is looking for a good veterinarian to take their rabbit  (or dog, cat or other small animal) to, you will be hard pressed to find anyone better than Dr. Joseph Martinez.
His clinic is named "Little Paws" and the address is 130 – 12011 2nd Avenue, Richmond, BC. Phone 604-241-2387 or email: littlepawsvet@yahoo.ca.
www.littlepawsvet.com
By the way, he even makes house calls!
Here is the YouTube video with Dr. Martinez in it…