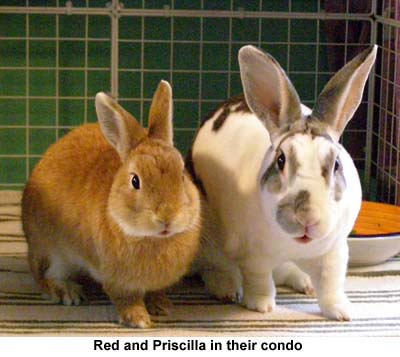 Once upon a time, we had two rabbits. Our first bunny was Priscilla, a large black and white Rex. She soon was bonded with Red, a smaller cinnamon coloured dwarf. They are now both over the Rainbow Bridge.
This website is based on the construction of the condo we made for Priscilla and Red to live in, so we might be able to help other rabbits have as nice a place to live as they once did.
Robert and Mary shot video footage while they were making the condo, and then he edited it into a video, which he also narrated. You can watch the rabbit condo video on YouTube.
Besides giving more details that didn't fit into the video, this website also has other important information, such as how to support Vancouver Rabbit Rescue and Advocacy (VRRA), the kind people who rescued Priscilla and cared for her until she was adopted.
Hopefully we will add some information about rabbit bonding, because every rabbit should have at least one other rabbit in their life. But bonding rabbits is a tricky business. Fortunately, over the years we have learned a lot about bonding, and it is our plan to  share those ideas on this website.
As well, I want to include links to other sources for information about how to care for house rabbits. They are very different from dogs and cats, you know. Some of them may look cuddly and adorable, but they're not stuffed toys. Bunnies have unique care requirements, and too many lagomorphs aren't as lucky as Red and Priscilla were.
We also publish the Hoppington Post website.
As an Amazon Associate we earn from qualifying purchases.
Here is a cute video of Red and Priscilla having a "who can be more relaxed" competition.