As you may know, we are very active volunteers with VRRA, Vancouver Rabbit Rescue and Advocacy. All of our house rabbits have been rescued by VRRA. Well, each year, we have a Rabbit Fest and the public is invited to come in for free to learn about rabbit care. There are educational displays, contests, grooming and nail clipping, health checks by veterinarians, games, refreshments and much fun. This year there was an amazing performance by "Wheata the Wonder Wabbit" who is another VRRA rescue bunny. She is only two years old and has literally been trained to jump through hoops. I spoke with her "mum" who told me she uses both small vegetable treats as well as a verbal clicking sound as rewards in her training.
Here is a picture of the wonderful rabbit condo that was raffled off as a prize, along with its lucky winner. You can click on the picture to see a larger size version.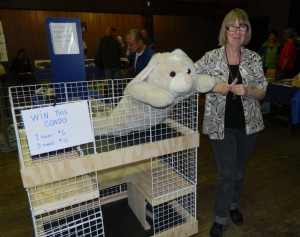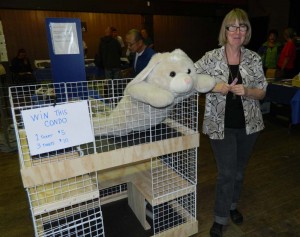 It's a little hard to see all of the details because of the sign, but Rob, who designed and built it, told me he experimented with using ramps to connect the different levels, but after trying it both ways, he eventually decided it's better not to use ramps, but to let the rabbits simply jump from one level to another. He said that the ramps took up too much space and were unnecessary. Furthermore, it is good, healthy exercise for the bunnies to have to jump between levels, and none has had any problems doing so.
It is also interesting to note that this condo is open at the top. Rob told me that his rabbits were smart enough to know that jumping out over the top walls would be too dangerous, and that none of them has ever tried. There is another view of the condo in the video posted below.
There were three vets who gave up their time as free volunteers this year, and we are extremely grateful to Dr. Ruack from West Boulevard, Dr. Burnstyn from Arbutus West and Dr. Martinez from Little Paws for so generously taking part.  The health checks and grooming were by donation, as were the cookies and beverages.
If you would like to get a sample of the flavour of VRRA's Rabbit Fest 2011, here is a YouTube video: